WE'LL FIGHT FOR YOU
Robert K. Olson
Hawaii Lawyer
Laywer | Director of Olson & Sons
Robert K. Olson, Esq., Kailua, Kona, and Kamuela (Waimea) Attorney
Robert K. Olson, like his father, is an attorney who handles a wide variety of matters. With an emphasis in litigation, Robert handles civil, probate, trust, family, and criminal cases in the District, Family, and Circuit Courts in Kailua, Kailua-Kona, and Kamuela.

Schedule a Consultation
To schedule a consultation with an attorney call Olson & Sons today.
Kamuela Office
808.885.8533
Your Local Hawaii Business & Litigation Claim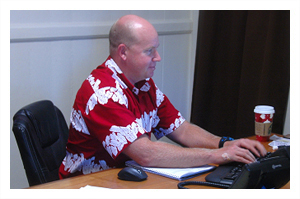 Robert was born and raised in Kona. He attended Konawaena Elementary and graduated from Hawaii Preparatory Academy in 1995, where he ran track, cross-country(Captain), and played basketball. At HPA received the Career Athlete Award.
Robert attained a Bachelor of Arts Degree in 1999 at Brandeis University in Massachusetts (Cross Country – Captain, All-American). Robert received his Juris Doctor Degree in 2002 from Western New England College of Law. Thereafter Robert clerked for Judge Glenn S. Hara in the Third Circuit Court in Hilo. After his clerkship, Robert worked for more than five years as a Deputy Public Defender on both Maui and O`ahu. Robert has extensive experience in jury and bench trials.
EXPERIENCE:
Member of Hawai`i Bar since 2003
Deputy Public Defender on Maui and O`ahu, Honolulu 2005 – 2010. Mr. Olson practiced in the District, Family, and Circuit Courts of the State of Hawai`i. Extensive experience in Non-Jury Bench Trials and Jury Trials.
Law Clerk to the Honorable Glenn S. Hara (3rd Circuit Court) 2004-2005.
APPELLATE DECISIONS:
As a Deputy Public Defender, Robert K. Olson, in addition to winning numerous acquittals, sucessfully preserved the record and appellate issues at the trial level in the following cases resulting in a favorable outcome for his clients on appeal:
State v. Bayly, 118 Hawai`i 1 (2008) – Hawai`i Supreme Court opinnion reversing Defendant's conviction.
State v. Bonds, 123 Hawai`i 133 (2010) – Hawai`i Intermediate Court of Appeals ("ICA") Summary Disposition Order ("SDO") reversing Defendant's conviction
State v. Eddington, 123 Hawai`i 292 (2010) – ICA SDO reversing Defendant's conviction.
State v. Brown, 124 Hawai`i 196 (2010) – ICA SDO reversing Defendant's conviction.
EDUCATION:
Western New England College of Law, Juris Doctor 2002
Brandeis University, B.A., 1999 Psychology (Cross Country Captain and All-American)
Hawai`i Preparatory Academy 1989-1995, College Preparatory Diploma
Konawaena Elementry 1982-1989
COMMUNITY ACTIVITIES:
Paddled canoes competitively for the past 25 years.
Ran Cross-Country, Track, and Played Basketball at Hawai`i Preparatory Academy.
Past Coach at Keauhou Canoe Club.